GLENDULLAN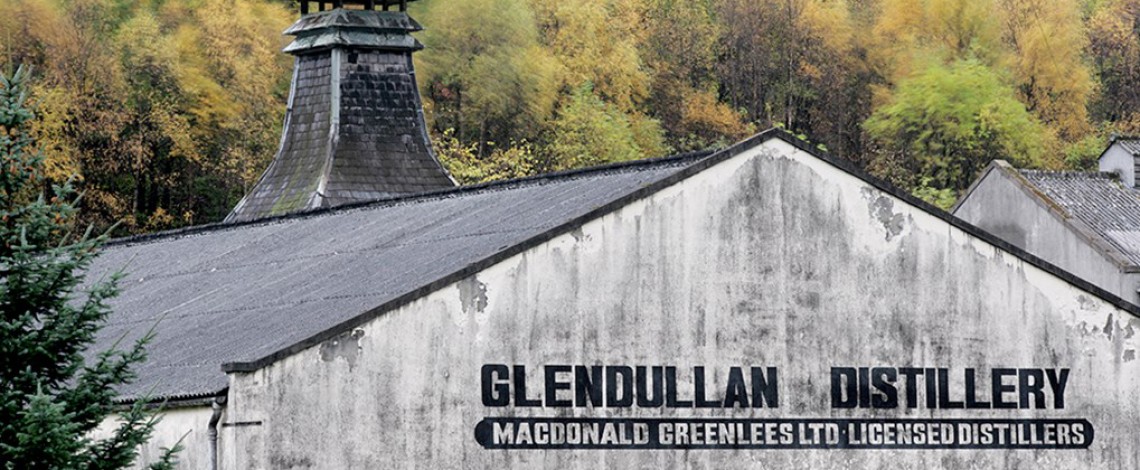 | Distillery Opened | Capacity | Malting Floor | Washback Type | Number of Washbacks | Number of Wash Stills | Number of Spirit Stills |
| --- | --- | --- | --- | --- | --- | --- |
| 1897 | 5 million litres | / | Larch/ Stainless Steel | 10 | 3 | 3 |
The Glendullan distillery was founded in 1897 by Williams & sons and is the last of seven distillery built in Dufftown.
The
Glendullan distillery
is located i
n Dufftown
and for the production of his whisky the
Glendullan distillery
uses the
water
which comes from
Fiddich river.
In 1902 the
Glendullan distillery
was delivered to the
Royal Court of Edward VII
and the
whisky
of
Glendullan distillery
became his favorite
whisky.
In 1972 there was more
demand for production
both from abroad and from the motherland. So another
distillery
was built between the
Glendullan distillery
and the worker's houses.
The two distilleries had worked together for few year and in 1985 the oldest of two was closed.
The distance between the two distilleries was described as
"A short one when the weather's good, and a long one when it isn't."
The
Glendullan distillery
buys the malt from Diego and for the
whisky
uses
American and European Oak
, which both give to the
Glendullan distillery's
whisky
honeyed hints and a balancing dryness.
1896  Williams & sons, a blending company with three stars and strahdon among its brands founded the 

Glendullan distillery

1902 

Glendullan distillery

 is delivered to royal court of Edward VII.
1926  Distillers Company limited bought

Glendullan distillery

1930  

Glendullan distillery

 was transferred to Scottish Malt Distillers.
1962  Major refurbishing and reconstruction were made in 

Glendullan distillery

.
1972  A brand new distillery was constructed next to the old one.
1985  The oldest of the two distillery was mothballed
1995  A 22 year old from 1972 was launched in rare malts series
2005  A 26 year old from 1978 was launched in the Rare Malts series
2007  Singleton of Glendullan was launched in usa
2013  Singleton of Glendullan Liberty and Trinity were released for duty free.
2014  A 38 year old was released.
2015  Classic Double Matured and Master's Art were released.
The 
Glendullan distillery i
s equipped with a
12 ton full later stainless steel mash tun
, eight
washbacks made of larch
and two made of
stainless steel.
The long fermentation promotes a green/grassy character of the whisky, as well as three pair of stills. Both of the stills have a pear-shape with spherical lids and narrows conical necks.
The range of 
Glendullan distillery
consist of:
12yo
15yo
18yo
Liberty
Trinitè
Classic
Double Matured
Master's Art
38yo