SPRINGBANK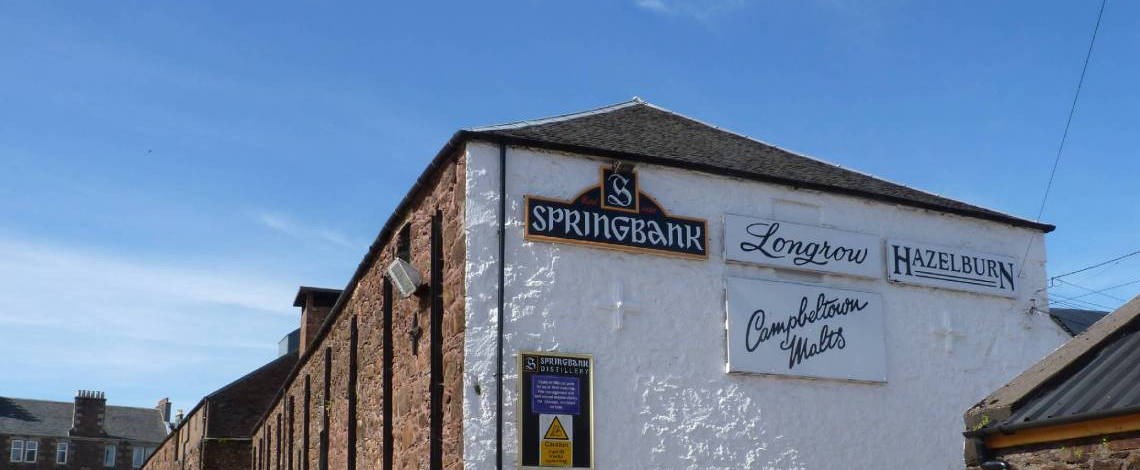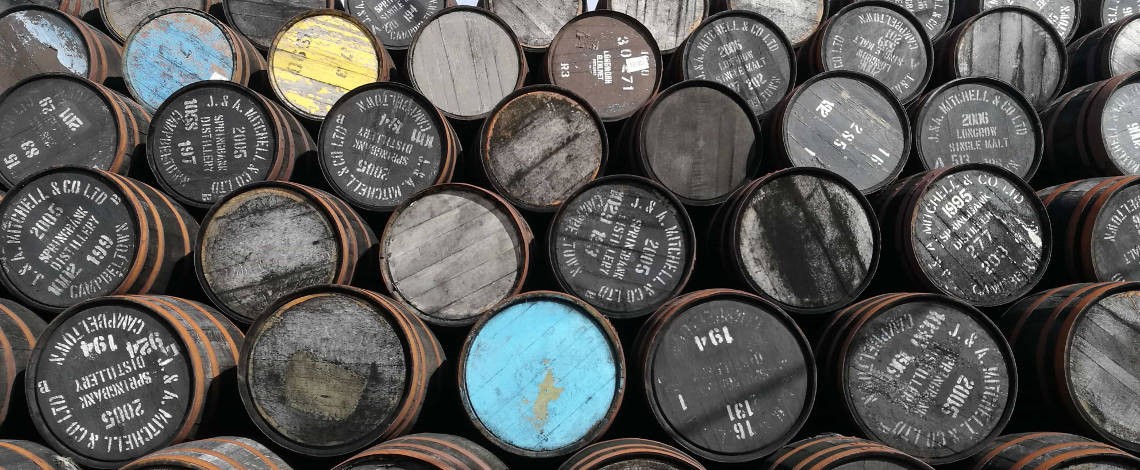 | Distillery Opened | Capacity | Malting Floor | Washback Type | Number of Washback | Number of Spirit Stills | Number of Wash Stills |
| --- | --- | --- | --- | --- | --- | --- |
| 1828 | 750 000 litres | / | 6 | Scandinavian Larch | 2 | 1 |
History

Licensed in 1828,  Springbank is one of the last surviving producers of single malt whiskies in Campbeltown, an area that once had over 30 active distilleries.

In 1897 J&A founded J&A Mitchell Co Ltd but after some years a deep depression forced the distillery to close.
 It was closed for a few years in the 1980s but J&A's determination to adhere to traditional production methods has not only carried the distillery through hardships, but also turned the malt into a cult whisky.

Thus Springbank was silent from 1979 to 1987, and closed again during 2008-09 when fuel and bar costs were high. Production has resumed since then, though on a relatively modest scale,  with Springbank making up an average of 60 per cent of annual output, while the remainder is split between "Longrow" and "Hazelburn."

McHardy, the Director of Production, explains, "One of the factors that make Springbank unique is that it is effectively two-and-a-half-time distilled. It's lightly peated and very sweet spirit. The sweet, fruity character comes in part from long fermentations - up to 110 hours. Springbank is also unique in that we do 100 per cent of the whole process from malting to bottling here, and the place is almost a working museum. We employee a lot of people  compared to most distillers these days, in effect to handcraft the whisky."
In addition to making two-and-a-half-times-distilled Springbank in its one wash still and pair of spirits stills, the distillery has produced a double-distilled, heavily peated single malt by the name of "Longwow" since the mid-1970s, with a 10-year-old variant being released in 1985. Batches of unpeated-triple-distilled- Hazelburn single malt are also made while the wash still in which all there whiskies are created is singular in being heated both by internal steam coils and direct-fired by oil.

The distillery

The core products consists of:
10-15 and 18 year old
12 year old cask strength
21 year old
25 year old
Longrow
18 year old
Longrow Red
Hazelburn Sherry Wood  and 18 year old
Springbank Green
Springbank Local Barley
9 year Helzburn with a finish in barolo casks

The distillery is equipped with a 3.5 ton open cast iron mash tun, 6 washbacks made of Scandinavian larch with fermentation time of up to 110 hours, one wash still and two spirit stills. The wash still is unique in Scotland, as it is fired by both an open oil-fire and internal steam coils.
1828 The Reid family, in-laws of the Mitchells founds the distillery.
1897 J. & A. Mitchell Co Ltd is founded.
1926 The depression forces the distillery to close.
1933 The distillery is back in production.
1960 Own maltings ceases.
1969 J. & A. Mitchell buys the independent bottler Cadenhead
1979 The distillery closes.
1985 A 10 year old Longrow is launched.
1987 Limited production restarts.
1989 Production restarts.
1992 Springbank takes up its maltings again.
1997 First distillation of Hazelburn.
1998 Springbank 12 year is launched.
1999 Dha Mhile (7 year), the world's first organic single
2000 A 10 year old is launched
2004 Springbank 10 year 100 proofs is launched as well as Springbank Wood Expression bourbon, Longrow 14 year old, Springbank 332 year old and Springbank 14 year Poort Wood.
2005 Springbank 21 year, the first version of Hazelburn (8 years) and Longrow Tokaji Wood Expression are launched.
2006 Longrow 10 year 100 proof, Springbank 25 year, Springbank 9 year Marsala finish, Springbank 11 year Madeira finish and a new Hazelburn 8 year old are released.
2007 Springbank Vintage 1997 and a 16 year old rum wood are released.
2008 The distillery closes temporarily. Three new releases of Longrow - CV, 18 year old and 7 year old Gaja Barolo
2009 Springbank Madeira 11 year old, Springbank 18 year old, Springbank Vintage 2001 nd Hazelburn 12 year old are released.
2010 Springbank 12 year old cask strength and a a 12 year old claret expression together with new editions of the CV and 18 year old are released. Longrow 10 year old cask strength and Hazelburn CV are also new.
2011 Longrow 18 year old and Hazelburn 8 year old Sauternes wood expression are released.
2012 New releases include Springbank Rundlets & Kilderkins, Springbank 21 year old and Longrow Red,
2013 Longrow Rundlets & Kilderkins, a new edition of Longrow Red and Springbank 9 year old Gaja Barolo finish are released.
2014 Hazelburn Rundlets & Kilderkins, Hazelburn 10 year old and Springbank 25 year old are launched.
2015 New releases include Springbank Green 12 year old and a new edition of the Longrow Red.
2016 Springbank Local Barley and a 9 year old Hazelburn barolo finish are released.